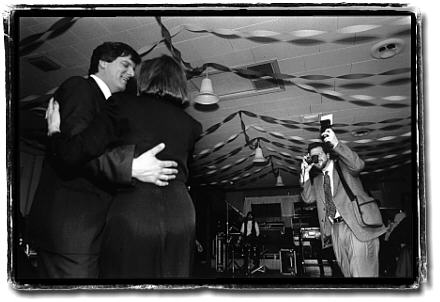 David photographing Delorah & Bob dancing
photograph by L. Brian Stauffer
David Riecks began his love affair with a camera even before his first international travels. An essay garnered him the prize of the opportunity to live in Brazil for two months, and whetted his appetite for travel and a career in photography.
Primarily known today for his photographs of people, many may not realize that Riecks' early work centered on the land and sky of the midwest.
Growing up as a youth in central Illinois, Riecks began working on his people photography skills while shooting for his school newspaper and yearbook at Mahomet-Seymour High.
While attending the University of Illinois, he honed his professional skills as a sport photographer with the university sports information office. He paid his way through college with photography work, including work as a photography stringer for the Decatur Herald and Review.
After graduating in 1985, he traveled to India on another exchange program, this time staying for four months. The following summer was spent working at the Maine Photographic Workshops, one of the longest running photography workshops of it's kind in the country.
Riecks began work as a communications specialist in photography with the University of Illinois in 1986. In 1987 Riecks was recognized with a regional Leica Medallion of Excellence. He became a member of the American Society of Media Photographers (ASMP) in 1991.
A chance to return to Brazil in 1992 gave him a chance to renew friendships in the city of Sao Paulo,the largest city in South America. For six weeks he observed and photographed life as part of a professional group study exchange sponsored by Rotary International.
He married Anna Barnes in 1993. They spent six weeks on a whirlwind trip of the entire Indian Subcontinent in 1996.
Riecks operates his own photography business and consulting service. Clients include: Omni, McCann Erickson, Farm Journal, Entrepreneur, Farm Futures, Illinois Research, The Sun, Illinois Steward, SuperValu, Prairie Farmer, and Successful Farming.
In addition to being a regular contributor on several professional forums, Riecks gives seminars on creating image intensive Web sites and was one of the principals who developed Mira's "digital standards." He founded "Controlled Vocabulary," a resource to help others learn how best to build controlled vocabulary lists, thesauri, and keyword hierarchies for describing images in databases.
David chaired the Stock Artists Alliance (SAA) Imaging Technology Standards from 2004 to 2011, and served as the project leader for the Photometadata.org site starting in 2009. Riecks served as chair of the American Society of Media Photographers (ASMP) Digital Photography Standards & Practices committee from 2003 to 2005 and helped to found the Universal Photographic Digital Imaging Guidelines (UPDIG) during that time. He serves as the Chief Technical Advisor for the PLUS coalition; and somehow finds the time to participate in Digitial Image Submission Criteria (DISC), IPTC4XMP and IPTC Photo Metadata working groups. In 2011 he took over management of the Photometadata.org site after the SAA trade organization dissolved.
Contact information:
David Riecks
701 W Washington St
Champaign, IL 61820
Phone/fax: 217.689.1376
david@riecks.com


This page last updated: March, 2021